Darcie Howard, Executive Director
Darcie Howard has been managing environmental education facilities for 14 years. She was the first director of the Montana Audubon Center in Billings, responsible for directing strategy, raising funds and implementing programs involved in the restoration of that facility. Her experience includes grant writing, donor development, capital campaigns, volunteer involvement, and community partnerships.
She holds an MS in Conservation and Biodiversity Biology from the University of Leeds and a BS from University of Massachusetts-Amherst in Wildlife Conservation. She has spent her career connecting people with place. Passionate about conservation, sustainability and environmental education. She lives in Wausau with her family and loves to explore WI every chance she gets. Email Darcie at dhoward@monkgardens.org.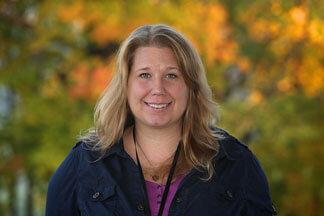 ---
Elise Schuler, Education Coordinator
Elise grew up in Illinois and attended school at University of Wisconsin-Stevens Point, where she earned a degree in Wildlife Ecology with a focus in environmental education. After graduation Elise spent a summer in Jackson, WY at the Teton Science Schools as a field instructor, spent a year as the Wisconsin Woodland Owners Association's Volunteer Coordinator, and most recently was the Director of Education at the Raptor Education Group Inc. Elise loves being able to connect people to nature in new and inspiring ways through environmental education.
Elise lives near Wausau and enjoys camping and canoeing with her husband and dog, running, and knitting.
---
The Monk Botanical Gardens Board of Directors
| | |
| --- | --- |
| President | Robert Reinertson |
| Vice President | Hooshang Zeyghami |
| Secretary | Nancy Cedar |
| Treasurer | Jen Powers |
Members: Andrew Edwards, Sandi Cihlar, Tom Monk, Vickie Richmond-Hawkins, Sheila Rossmiller, Shelley Wells, Paul Whitaker, Julie Bollmann, Mallory McGivern
Monk Botanical Gardens Board Committees
| | |
| --- | --- |
| Executive | Bob Reinertson, Chair |
| Finance | Jen Powers, Chair |
| Development | Vickie Richmond-Hawkins, Chair |
| Governance | Sheila Rossmiller, Chair |
| Grounds | Paul Whitaker, Chair |
| | |
| | |
| | |
Interested in joining our Board or one of our Committees? Click here to volunteer.