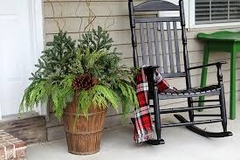 Now that the leaves have fallen and the landscape looks barren, it's time to add a little green around your home! It is the perfect time to add some greenery and life to your outdoor decor for winter. Greens or boughs are the ideal way to bring your yard back to life. The most common way to add greens to our landscapes is through the creation of porch pots. You can use your existing containers with a few modifications. First, you will want to ensure that the containers are not in the way of having water dripped on them consistently because the water from the freezing and thawing can waterlog your pots and cause cracking. You will want to make sure that your pots have drain holes to release moisture when the temperatures rise. Some of you may be asking, which planters are best for porch pots? Ceramic, terra cotta, resin, or plastic? You can use them all in theory, but you run the risk of increased cracking with thinner ceramics and terra cotta. A rule of thumb to go by is to make sure that your ceramics are at least ¾ inch thick. When purchasing ceramic pottery, you want to gauge the thickness and how heavy they are to determine whether they can withstand our winter weather here in Wisconsin. With plastic pots, they have more flexibility and tend to be cheaper to replace if they crack in the weather.
To prepare your pots for the winter season, it is best to fill the bottoms of larger pots with either styrofoam or plastic pots to give room for expanding and contracting. By filling only half of the large pots, it will allow for more drainage as well. There may not be space for fillers for smaller pots, so just make sure you have a drain hole. It is best to try to take out the soil from the pots for best results if they are small enough. If you can remove the dirt from the pots, you can pack the greens in floral foam or let them stand alone in the pots.
Now that we have the logistics taken care of let's have some fun with what you can use to fill your pots. You will want thrillers, fillers, and spillers in your arrangement. Thrillers are the focal point or unique specimen that draws the eye into the arrangement. You can incorporate birch poles, dogwood, curly willow, dried grasses, and dried hydrangeas to thrill. In all arrangements, you need fillers to help carry the eye downward to the spillers. Fillers are your greens, including balsam, fraser fir, juniper, white cedar, spruce, and pine boughs. Spillers finish off the arrangement with a bang! Some great spillers include crabapple berries, winterberry, pinecones, weeping greens, and dried hydrangeas. You can leave your arrangements natural-looking, or you can jazz them up with ribbon, ornaments, lights, glitter, and other festive decorations.
When arranging in your pots, whatever medium you choose to anchor your stems in, you will need to insert the stems in at least 1-2 inches down for them to stay put. The soil will freeze the stems in place, the foam will freeze once wet, and the free-standing stems can be held together with wire. If adorning your arrangements, remember that winter elements are harsh, so wire those ribbons and ornaments for security. Try not to use glass in your arrangements because it usually ends up broken. Established arrangements will give you joy all season long! The evergreens are dormant with the cold weather, so they shouldn't turn brown until the temperatures start to heat up. Once the spring thaw emerges, you can take the arrangement out and start planning for spring!