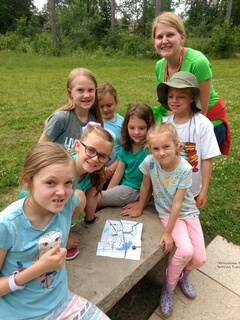 My experience as the Environmental Education Intern at Monk Botanical Gardens this summer has been fun, fast, and extremely educational. I may have been in a teacher role, but I think I've learned the most! Here are three of the biggest lessons I have learned.
Be VERY Prepared
I quickly found that all crafts and activities need a "trial run". Making a clothespin dragonfly may seem pretty simple, but what happens when Elmer's glue isn't enough to make the googly eyes stick? What if the modeling clay sticks to the table or the kid's scissors aren't strong enough to cut the pipe cleaners? It's very important to find and address as many potential problems as possible BEFORE there is any kids present. If one planned activity doesn't take as long as expected, it's important to have a backup plan as well. Nothing is worse than finding yourself with extra time and no way to fill it. If there are long awkward spaces between activities as you scramble to plan something new, you will quickly "lose" the kids, and it will be tough to get them back!
2….but BE FLEXIBLE
As important as it is to always have a plan and be one step ahead, I've discovered that it's even more important to be flexible. Buses, bloody noses, weather… when working with small children and school systems, we are at the mercy of a lot of things. Sometimes, plans and timeframes need to be adjusted at a moment's notice. As Education Coordinator, Elise Schuler always says, "No one knows what you WERE going to do". As long as you are able to quickly and smoothly make the change, the kids will still have fun- and learn something! It's crucial to go with the flow.
3. Keep a Kid's Game Container in Your Brain
In "transition" time or when it's clear the kids have the energy to burn, it's very handy to have a lot of quick, prop-less games at your disposal. Classics like tag and red rover are always crowd-pleasers, but I have learned A TON of cool new games from the kid's I've had the pleasure of meeting this summer. To be able to pull a quick game out of your arsenal is a fantastic skill to have.
This shortlist barely skims the surface of what this experience has taught me. I am so grateful to have had this opportunity, and I will carry these lessons with me to all of my personal and professional roles in the future. Thank you, Monk Gardens, for teaching me to teach!