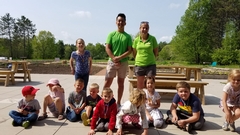 On Saturday June 1st; I had the pleasure of helping Elise, the educational supervisor here at Monk Botanical Gardens, facilitate a birthday party celebration for Lincoln. I honestly had a great time! I initially did not quite know what to expect, since I have not really done much programming with kids; however, after this experience I am looking forward for more opportunities like these!
It was a gorgeous day outside! Relatively clear skies, the mild Wisconsin heat, and the breeze was perfect around the potager. I had just completed a bird watching tour around the grounds, and then proceeded to touch-base with Elise nearby the potager. After making preparations, Lincoln's family and friends arrived overtime. As anticipated, the kitchen garden served to be a great playground for the kids with the many paths and stimuli throughout allowing them to both interact with the environment and have fun!
After gathering the kids, Elise and I conducted the Bug Olympics: a series of events to immerse kids in environmental education by engaging them in various related activities. Evidently from the name, education was provided with an emphasis in bugs. The first event was a bug hunt where we captured bugs, had a brief dialogue over various topics like types of bugs and the number of appendages, showcased our best catches, then released them. Afterwards, we did a butterfly run, where we had the kids squat and pose as cocoons at the start line, stand to symbolize metamorphosis, then spread their wings like a butterfly and run a lap around the kitchen garden. We then had the kids run a six-legged race where they would lock arms and compete in a race to the finish line. Lastly, they played the role as bees, and gathered colored noodles which served as pollen. It was clear that each activity aimed to educate the kids about basic bug knowledge through immersing them and personifying their activities with bugs!
To wrap to program together, every participant of the olympics was given a medal to celebrate their completion of the competition. The kids were evidently ecstatic to receive their award and were especially ready for the next and best activity: snacks! It was a pleasure being able to contribute to the fun that Lincoln's group had and to work with Elise! To more valuable memories like these!