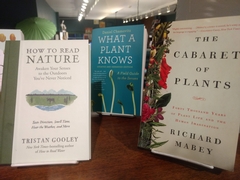 I am a total plant nerd and I've always been an avid reader, so nothing makes me happier than reading a good botanical book while hammocking under the trees. Summertime is the perfect opportunity to enjoy the beautiful weather with a leisurely afternoon of reading, so pick up a book at your library and come enjoy it at the garden! If you are looking for a few suggestions, check out one of these nature/environment themed books that are on my summer reading list.
The Last Butterflies: A Scientist's Quest to Save a Rare and Vanishing Creature by Nick Haddad
Using stories of success and failure in the attempts to conserve the world's rarest butterflies, this book continually questions whether nature is resilient or fragile. Haddad believes butterflies are the proverbial "canary in the coal mine," and he makes a strong case for starting conservation work before it becomes too late.
Stuff Every Vegetarian Should Know
Choosing to go vegetarian is better for the environment because it can drastically reduce your carbon footprint. Even if you're just a flexitarian, like me, who attempts to reduce their meat intake, this book is a quick, accessible read packed with suggested meal plans and useful nutrition information that makes the choice easier.
The Invention of Nature: Alexander Von Humboldt's New World by Andrea Wulf
The story of Humboldt's many travels inspires both fear and awe. This is a fairly dense book, but it is a worthwhile read because it explains how he arrived at his understanding of nature as a deeply connected whole.
The Drunken Botanist by Amy Stewart
If you missed out on our Booze and Botany event last week, this book will give you all sorts of knowledge about where alcohol comes from, and lots of creative ideas about how to use it!
Kaufman Field Guide to Nature of the Midwest by Kenn Kaufman, Jeff Sayre, and Kimberly Kaufman
You might not want to read this cover to cover, like I did, but this is a handy tool to have on hand. It's pretty neat to have a single book that can help to identify plants, birds, or whatever else you might come across throughout the Midwest.
What a Plant Knows by Daniel Chamovitz
While this book does tend to anthropomorphize plants, it remains a fascinating reminder that plants are actually far more complex than we give them credit for.