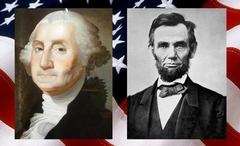 It's only February and our cold weather persists—penetrating and enduring.
But there's reason to think about the Monk Botanical Gardens, the fresh scent of soil, the pastels of new shoots. Presidents' Day, for example. It's Monday, Feb. 19, and it honors presidents George Washington and Abraham Lincoln, although you could say it honors all who've served in the White House over the years.
But let's stay focused on old GW and Abe and their connections to gardening. One author, historian Irwin Richardson, suggests the contentious Constitutional Convention of 1787 literally got a breath of fresh air when some of the key figures—namely Jefferson and Washington--took a break from the harangue and visited the Philadelphia gardens of Quaker botanist John Bartram. They were both "seeking a peaceful setting and plants," wrote Richardson. And they both purchased trees for their properties at Monticello and Mount Vernon, respectively. Of course, they got the Constitution drafted and signed, too. Let's give the garden a bit of credit for that.
Lincoln? Well, he had his share of issues, too, but it's not clear that a walk in the garden soothed his psyche. His quotes contain numerous references to gardens, however, one of his most prominent being "We can complain because a rose bush has thorns, or we can rejoice because a thorn bush has roses. Ever a bright-sider!
Also, if you've been to Abe's home grounds in Springfield, Il., you may have walked the Lincoln Memorial Garden—100 acres of woods and prairie, maintained pretty much like the landscape of Lincoln's time.
Of course, March and maple syrup follow February, showers and shrinking snow appear in April, and our Green Saturday Plant Sale, Flea Market & Workshops will fill the Monk Botanical Garden in May. Think green!