The North Central Wisconsin Master Gardener Association is working to develop a shade garden within the Monk Botanical Gardens located in Wausau, WI.
In 2018, volunteers worked more than 200 hours to clear over 10,600 sq. ft. of buckthorn, grape vines, and other invasive species to make room for the shade garden. Within the area, several red pines were removed due to declining health, poor structural integrity, unsafe conditions and to create space for undergrowth. Committed to recycling all that was removed, the red pine logs will be used as mulch for the Gardens or donated to local artists for furniture and sculpture creation. In addition, a variety of stumps were saved for sculpture art, adding dimension and beauty to the shade garden.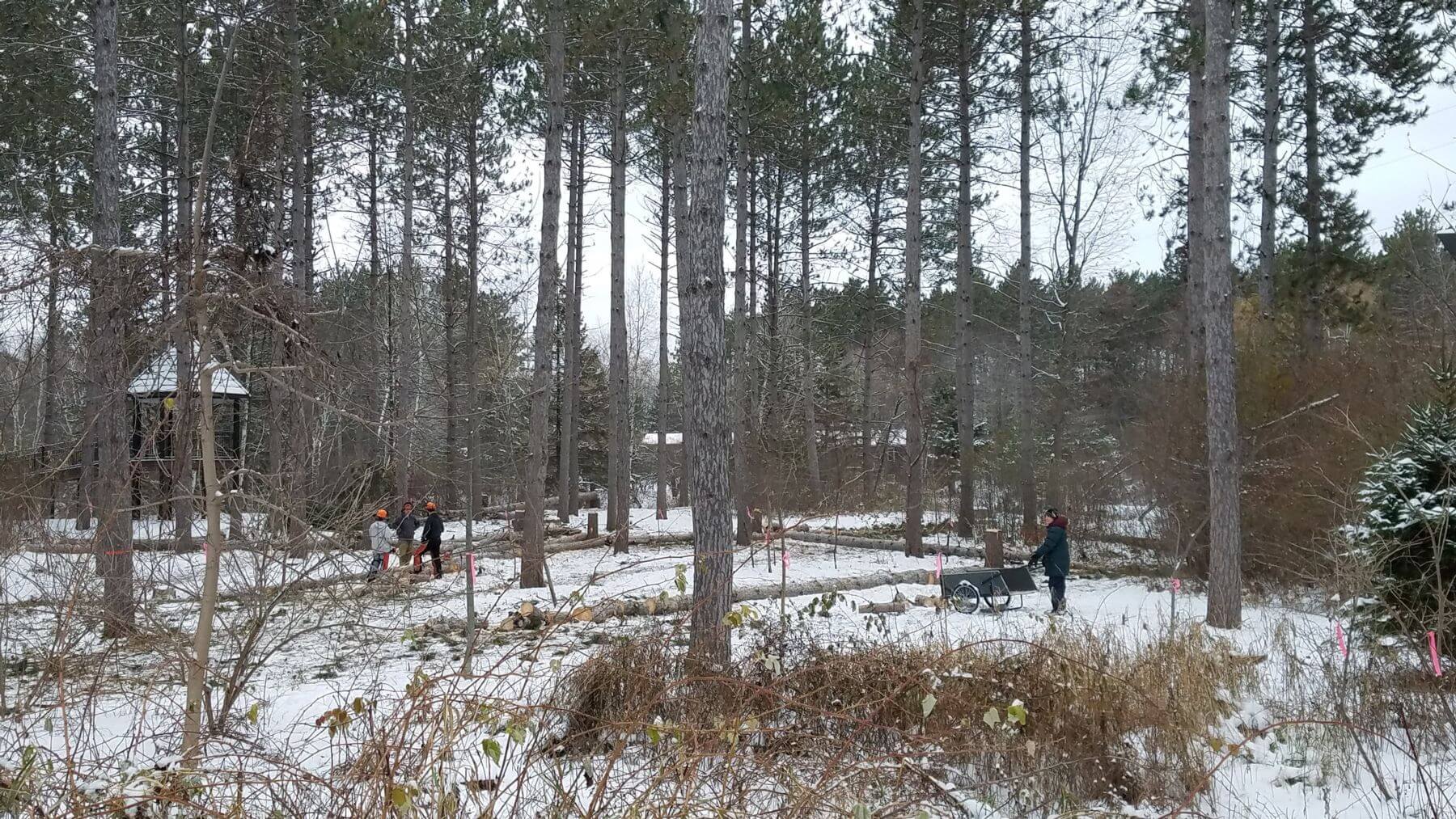 In 2019, we will plant thirteen different species of deciduous trees and a variety of shrubs, increasing the diversity of the shade garden. This increase in tree diversity will strengthen the health of the forest, including providing better bird habitat. All trees, shrubs and plants will be identified, providing visitors with a demonstration garden that can be recreated in their own yard. Volunteers will also be adding content rich soil, pathways and seating along with planting annual and perennial plants including over 110 varieties of hostas. The Master Gardeners will secure the American Hosta Society recognition for the Monk Botanical Gardens with a National Display Garden status.
The Master Gardeners are committed to education. In January of 2019, the Master Gardeners' Garden Visions Conference (https://fyi.uwex.edu/marathonmg/garden-visions/ ) will have several speakers discussing topics relevant to shade gardening.
This project could not be completed with our dedicated funders. Thank you to our supporters: State of Wisconsin Department of Natural Resources Forestry Program (Urban Forestry Grant Program), the Marvin & Ruth (Rudie) Schuette Fund and the William M. & Mary Nell Reif Family Fund of the Community Foundation of North Central Wisconsin, Monk Botanical Gardens and the North Central Wisconsin Master Gardener Association.
Interested in getting involved with this project? Contact Linda Grilley at [email protected].