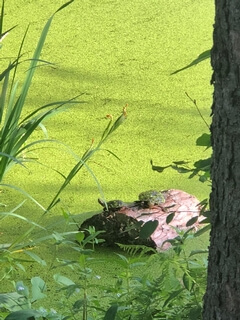 Walking alongside an elementary schooler, I explained how we have many animals at the garden. I told him we have snakes, turtles, groundhogs, and other animals. Then, I got a little carried away and threw in some animals that we could not possibly ever see here. This bright young lad was not about to put up with my tricks. He knew that polar bears, penguins, and sharks do not live in this environment and gave me some facts about more animals he knew about. I was impressed by his vast knowledge and love of animals.
Through Community Connections at the Monk Botanical Gardens we want to foster an appreciation for all living things, however a lot of kids come in wanting to stomp on the little creatures and pick at flowers and other plants. During visit one, we were grabbing shoes out of hands, intervening huddles around bugs, and stopping hands from ripping plants out of the ground. By visit two, they had a greater understanding of the role of animals and plants having pretended to be them in our games. We were seeing more close observation and curiosity of the living things that look so different but have some of the same needs as people.
This week commenced the third and last visit for the elementary schools. The shrieking and stomping at the sight of a spider has ceased. The ferns, flowers, and grass are very thankful that the kids have learned that picking living things hurts or kills the plant. We hope their hours spent learning and playing at the garden are remembered as they explore their backyards, parks, and beyond in a safe, respectful, and fun way!