In the years that Monk Botanical Gardens has been open to the public, several themed garden areas have been added. This week we added arguably one of the most important ones- the Entry Garden. The plan to "beautify" the entrance to the Gardens has been in the works for quite awhile now, and this week we were able to make those plans come to life in a way that visitors can really enjoy. However, there were many steps to the process and it would not have been possible without the amazing Monk Gardens volunteers.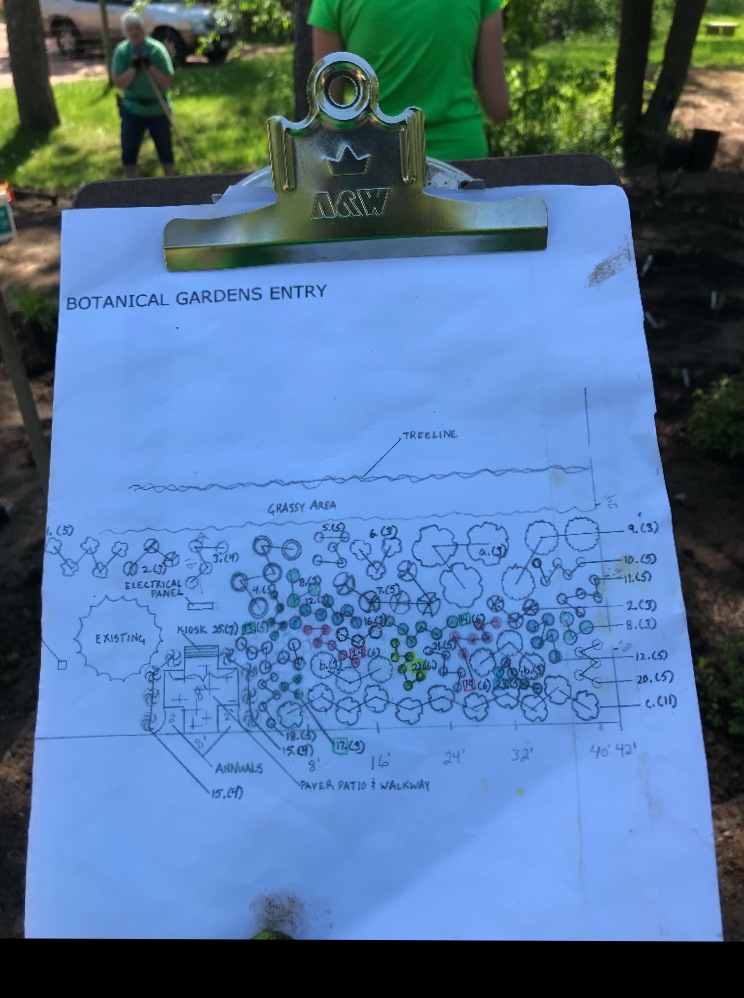 The first step in the "beautifying" process was to move the garden shed that, in years prior, had been one of the first things visitors saw when they entered the gates. Just last year, a group of Gardens staff and volunteers embarked on a mission to move the shed to a more suitable location. It couldn't have been easy, but they got it done!
A gorgeous design for the Entry Garden was then created by Laura Syring, in collaboration with other volunteers. The Perennial garden design includes over 100 individual plants, including many native shrubs and grasses. This includes New Jersey Tea, Sweet Black Eyed Susans, Butterflyweed, Culver's Root, Goats Beard, Golden Alexanders and many, many more. A new kiosk is also being created for the Entry Garden, so visitors can easily find informational brochures and Gardens news. This new entry will help create the warm and welcoming atmosphere that we hope carries throughout the Gardens.
It took some time, but once the space was made available, the plan was in place, and the plants were purchased we were able to get to planting this week! Volunteer Anne Kieffer, who did a twelve year stint on the Monk Gardens Board of Directors, led the charge! Myself and our other summer interns had the pleasure of working with Anne, as well as Grounds Supervisor Wes Ebert, Board member Paul Whitaker, and volunteers Sandi Cihlar and Jayneann McIntosh to get the plants in the ground.
An incredible amount of time, thought , and creativity has gone into the creation of the Entry Garden , and it shows! As beautiful as it looks already, I cannot wait to see the Entry Garden in a year or two when the plants have filled in and reached maturity. The Entry Garden is an excellent reminder of how far Monk Botanical Gardens has come in the last several years- and all the amazing places that the talented staff and volunteers will continue to take it.