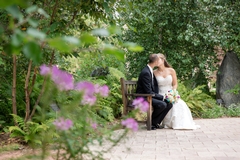 So it's February. Valentine's season with all its hearts and flowers, chocolate and love notes, pink and red and all very lovely.
But what does that have to do with the Monk Botanical Gardens?
Well. More than you might think. For one thing, we have our Sweetheart Walk—a snowshoe event—from 6-8 p.m. on Friday night, February 15. It's for folks 21and over. Walk the trail, end up with toasted marshmallows and hot cider, and bring a loved one— including your dog!
For another—we're scheduling weddings for next spring, summer and fall. The Gardens are a great setting for those blissful events. Click here for details.
February is all about love, and when you think about it, the Gardens are about love, too. The love the Monk family had for these 29 acres in Wausau, the trees, the pond, the trails, and the quiet in the midst of the city. The love those early board members had for getting the property fenced and raising money for a plan for the Gardens. The love that went into the development of the Gardens—those who gave donations, those who gave time, those who pulled weds, moved dirt, planted trees, removed invasive species. The scouts who built projects. The volunteers who staff events.
And those who visit—with their kids or grandchildren, their friends, or just by themselves to enjoy the peace and quiet. "I love this place," so many tell us and say on social media.
And how about the love Ruth Schuette has for the Gardens? First she made funding available to build our towering treehouse, and only recently, she enabled us to purchase the Monk family home, the acreage around the house, and the parking area along Campus Drive.
Now those were valentines, no matter the season!
Photo by Klutz B Phography.