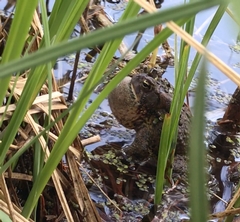 As the blustery and cold Wisconsin Winter comes to an end, and Spring greets the gardens with open arms, various creatures make the garden their home for this upcoming summer. From mammals to amphibians to various plant species, the garden offers visitors an exciting look into nature.
The meditation garden, specifically, is a great spot for observing nature at its best. If one has a moment to relax, I highly recommend finding a comfortable stone in the meditation garden and listening to what surrounds them. In the last week, I've seen a variety of birds, frogs, and even a snapping turtle, gathering around the pond. The meditation garden offers an abundance of colors in addition to an abundance of fresh spring life.
Most likely, the mating call of the American Toad can be heard… and loudly at that. While pruning one of the trees near the pond, I happened to hear this loud call, realizing that directly behind me sat this little amphibian friend. I was able to get up close and personal, capturing a riveting video of the toad performing this mating call. The video shows the toad inhaling, holding the air, and then releasing it via vibrations emitted from its vocal cords. Being able to observe this process up close and personal was riveting and a great invite into the gardens. (watch the video here: https://www.facebook.com/MonkBotanicalGardens/videos/614185029058305/)
Life and evidence of spring can be seen throughout the garden. The Azaleas in the Meditation gardens are starting to blossom, boasting their soft pink flowers. Magnolias near the plaza are also starting to bloom. Young rabbits and sprily chipmunks run rampant throughout the property, most often found near the compost piles. As a persistent reminder of the time of year, Robins can be seen wandering around and flying overhead, in addition to a variety of species like Blue Jays, Cardinals, and Red-winged Blackbirds. Their songs and calls are also very prevalent. The garden offers a host of species for all viewers to observe, making it a great destination for a warm (or slightly chilly) spring day.