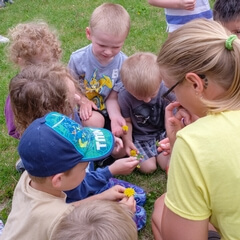 The word kindergarten was coined by Friedrich Froebel, a german educator during the mid 1800s. Kinder means child and garten means garden. While he strongly believed in a literal garden for children to build a connection with the environment, he also believed in a metaphorical garden relationship between students and educators. Today, we call the children kindergarteners, but previously the teachers were called kindergarteners. Froebel held the principle that children were unique plants and teachers were gardeners providing special care and attention to each plant. For young learners to best understand the world around them, Friedrich Froebel and the teachers emphasized learning through play.
This week at the Monk Botanical Gardens, we had many young visitors come play. Every 2nd and 4th Tuesday we host Tots in the Garden. Exactly as it sounds, this laid back class is for tots (and their families) to get hands on in the garden and explore many aspects of nature. This week, the focus was edible plants- we had many brave grazers! After tasting some clover, dandelion, and chives, we did some painting using more familiar edible plants like broccoli, asparagus, apples, and potatoes. We all left with a bit of dirt and paint on our hands, but such is the sacrifice for learning by playing.
Other young visitors this week included children from Riverview, Jefferson, and GD Jones participating in the Community Connections program. During their visits, they practiced yoga, planted flowers and beets, and played a game of Birds and Worms. We interns lead the game of Birds and Worms, a game highlighting the important role of camouflage in nature. The birds (kids) worked hard to find their prey of many colors (noodles) in a grassy field. We can't wait to see them again for their next visit to the gardens!
The Monk Botanical Staff had a great time playing and learning in the garden this week. Just a reminder to all kinders and gardeners to fuel up with healthy snacks, drink lots of water, and protect your skin from the sun!