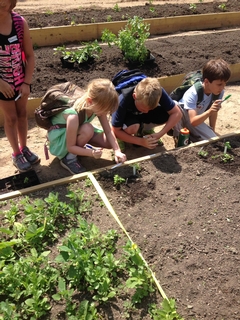 Thanks to the Support that You Give to Monk Botanical Gardens, 2018 will be a year of Education, Renovation and Development.
Education. We are expanding our staff to include an Education Coordinator. This position, soon to be hired, will develop monthly family programming, connect with the Boys and Girls Club and the American Hmong Association to provide field trip opportunities, and implement programs aligned with Wausau School District's core curriculum to provide in-class programs and field trips to the Gardens. Education is central to our mission, and our goal is to connect people to place through hands-on environmental education. Our programs will provide learning opportunities for all ages to explore healthy eating, cooking, gardening, botany, natural history and ecology. Through engaging programs, we will help develop a community of involved, informed and healthy citizens.
Renovation. Last summer, we were fortunate enough to obtain an additional 6+ acres along with the Robert Monk family's former home and out-buildings. With our growing staff and volunteer community, we will renovate the facilities to provide office and meeting space along with storage for our equipment and supplies. The renovation will also include living space for college students who want to spend their summer interning and learning with us. We will develop an internship program that will attract the best horticultural and environmental educational students in the country. Interns will learn how to maintain, develop and grow a botanical garden. They will practice what they have learned in school and apply it to a real position in horticulture and environmental education.
Development. As you visit the Gardens you will notice several ongoing projects. Firstly, we have partnered with North Central Wisconsin Master Gardeners to install an almost 1-acre Hosta garden. This year will be devoted to preparing the site for the garden. Secondly, we will be working on increasing lighting around the Gardens along with installing a new automated gate that will lock at dusk and unlock at dawn. Another big development project will be our PlantsMap database which will provide us with a record of all plants within the Gardens while providing visitors with details about each plant, easily accessed via an app on your phone. You can learn more about the PlantsMap database please click here.
We cannot do any of this without your financial support-so thank you!
Interested in getting more involved in any of these projects? Click here to learn more about how to volunteer...
Click here to donate to the Gardens...
A special thank you also needs to go out to B.A. Ester Greenheck Foundation for supporting our education program, an anonymous donor through the Community Foundation of North Central Wisconsin and the Marathon County Department of Conservation, Planning and Zoning-Environmental Impact Grant for providing the monies to purchase the 6+acres and buildings, North Central Wisconsin Master Gardeners, Wisconsin Public Service for granting some of the monies for the automated gate, and once again to the Marathon County Board Supervisors-Environmental Impact Grant for supporting the funds to improve lighting within the Gardens.
We are thankful for all of the community support!