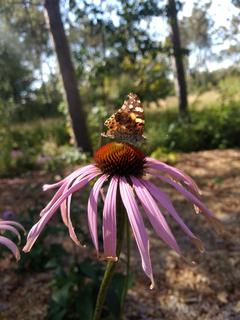 Have you ever seen a pretty flower at Monk Gardens that you wanted to plant at home, but didn't know what it was? Have you ever seen some cool bugs or crazy mushrooms while you were outside but couldn't identify it? Have you ever wanted to impress your friends and family with weird nature facts?
If you answered yes to any of those questions, here's a few easy tools to start building your naturalist skills.
Classes
Why it's great: The instructors are usually very knowledgeable about the subject and you can ask lots of questions.
Examples: Monk Garden's Garden Gabs or Dirt to Pot events, naturalist programs at state parks and nature centers, University of Wisconsin Extension classes
Facebook Groups
Why it's great: You can learn and explore nature from your couch, and the postings reflect what's happening in your area at that time of year.
Examples: Wisconsin Naturalists, Wild Foods Wisconsin, Wild Birds Wisconsin
Books
Why it's great: Field guides often have the most detailed, accurate information and high-quality images.
Examples: Kaufman Field Guide to Nature of the Midwest, Audubon Society Field Guide to North American Wildflowers, Peterson Field Guide to Eastern Trees
Apps
Why it's great: Each app is unique. Some give instantaneous identifications and others contribute to citizen science databases that are used by real researchers.
Examples: Plant Snap, iNaturalist, Google Lens, Herp Mapper
People
Why it's great: Learning from friends is always more fun.
Examples: You'll have to figure this one out on your own!