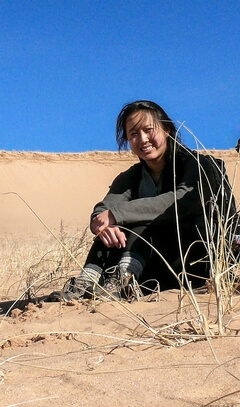 This past spring break I went on a rock climbing trip Devils Lake. I have been rock climbing for many years and love the sport. Although I know there are dangers involved during climbing, I never thought I would witness a deadly tragedy before my own eyes.
I have struggled with mental health issues in the past, and witnessing this death sent me into a downward spiral. Within days, I wound up in the emergency room and was transferred to a mental health unit. After a few days of receiving treatment, I was released. I was determined to get myself back on track and started thinking of the best ways to do that. I continued counseling, transferred to a different school, got back on the rock wall and applied for what sounded like a cute little summer internship.
After a terribly awkward phone interview and a not too shabby in-person interview, I was offered the internship at the Monk Botanical Gardens. I took the offer with no second thoughts, but soon starting feeling bouts of hesitation and nervousness. I wasn't sure if I could handle the social interaction (or lack thereof), the long unpredictable days, or the stress of living with a garden board member and total stranger for three months during this time critical time of recovery. After giving it some thought, I realized that I needed to change my attitude and look at the opportunities that the internship would provide. Not only would I build my resume and my knowledge of biology, I could focus on making new daily habits, meeting new people, and learning to feel comfortable and present in my own mind again.
As an enthusiast of fast paced outdoor activities, I never really understood gardening. What do you gain from it? A tomato? A pleasant view? A sunburn? A bee sting? I, of course, received all of these things, but I also reaped the benefits of just being outside in a positive, calming environment. There was a pattern to when I worked, what I did, and who I talked to on a daily basis. I quickly became comfortable with the routine and with my supervisors, the fellow interns, the regular garden visitors, and the board member (and dogs) I was living with. A lot of my hours were spent talking to people, but there were many hours spent alone with my own thoughts. I took lessons from nature's ways and practiced feeling present, in control, and strong. As the summer went on, I learned to control my negative thoughts and look at the garden with a clear mind and new eyes.
I now have an appreciation for what gardening is, and the unique value of spending time with nature. Whether I was among people or alone in the garden, I was receiving the therapeutic benefits of a horticultural space. The healing power of nature is real, and with conservation on the down fall and mental health issues on the rise, places like the Monk Botanical Gardens are truly a treasure. Spending the summer in the Gardens has transformed and restored me. This internship will have a profound effect on me for many years to come.
Help others heal by becoming a Member today which helps to support our internship program as well as the following in 2019:
Reach over 5000 children with our hands-on environmental education programs-creating an everlasting connection to plants.
Offer new programs such as school-break and summer camp focused on engaging students in science and nature.
Complete a gorgeous perennial garden at our entrance.
Continue to offer our popular events such as Booze & Botany, Green Saturday Plant Sale, Flea Market & Workshops and our Dirt to Pot Cooking series.