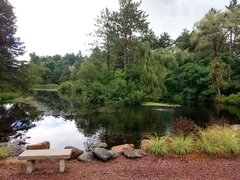 First off, what is Leave No Trace?
If you've ever come across the phrase "take only pictures, leave only footprints," you've heard of Leave No Trace. It's a way of thinking, not a set of rules, that encourages people to enjoy outdoor areas responsibly and seeks to minimize negative impacts to the parks we love so much.
Leave No Trace was originally intended for backcountry hikers, but the principles apply to everything from your backyard to a national park.
Why is it important?
There are countless stories of beautiful parks damaged by careless littering, eroded trails, and disrespectful visitors, but here's a few infamous examples.
Joshua Trees Destroyed in National Park During Shutdown May Take Centuries to Regrow
Teen suspected of starting massive Oregon wildfire, state police say
Instagram-hungry crowds are destroying the super bloom
What does it look like at Monk Gardens?
It's pretty simple, just remember the phrase "take only pictures, leave only footprints!" Stay on the established trails, and make sure your leashed dog does too. Pick up your trash and dog poop. Don't pick flowers or remove plants, animals, sticks, etc. from the garden. Lastly, please be considerate of our other visitors and, especially, our animals, since this is their home!
For more information
Visit https://lnt.org/.