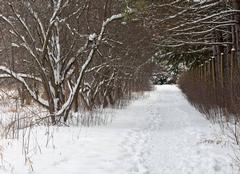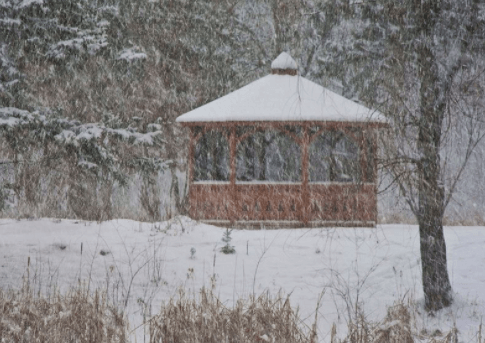 Why would you want to visit the Monk Botanical Gardens in winter when it's cold and grey and snowy?
Well, exactly because it's cold and grey and snowy.
Gardens are special places in winter. The snow-filled boughs of towering pines offer a bright tapestry of green and white. Trails sometimes wind off into a blizzard, destination out of sight.
Sounds are muffled. The wind sighs through the tops of trees. Squirrels and birds and rabbits venture out briefly for a bit of food or exercise. In the morning, yours may be the first footsteps in the snow. Ice forms on the pond, except for the dark pools bubbling from the aerators.
With the foliage gone, the trees take on crisp, stark, skeletal shapes. Everything is sharply defined, like a pen and ink drawing. The occasional red or yellow stalks of willow contrast against the winter colors--black, grey, white and forest green. A few oak leaves still hang on.
The ground is frozen. Covered and protected, the bulbs and seeds and roots wait below the surface for the warming soil of spring. We do too. As the Winter Solstice passes on December 21, we anticipate days that lengthen and a sun that tracks higher across the southern sky. The Gardens are the perfect place to feel this happen.
We're open every day from dawn to dusk. The entrance gate at the end of N. First Ave., is latched to keep the deer out, but never locked.