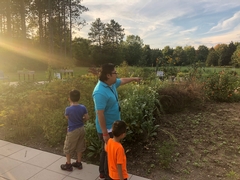 Hue Yang will be the first to tell you he is not a gardener. " I was worried about the size of the garden plot you were giving us, but my mom, who has been gardening her whole life, said this [plot] is not big enough," he laughed. Hue Yang, his five children, and Mother were the first family to participate in a volunteer program developed in partnership with the Monk Botanical Gardens and Habitat for Humanity (HFH) last spring.
The purpose of the program is to provide HFH partner families, "sweat-equity" opportunities while providing the Gardens with needed volunteers. Each HFH partner family must volunteer a certain amount of "sweat equity" hours as part of the HFH program. This can be a challenge for families with young children because, due to safety guidelines, children cannot enter an active building site where half of the volunteer hours are offered. Being able to provide the HFH partner families with volunteer opportunities at the Gardens allows them to achieve their hours together, as a family. "The best part about volunteering in the kitchen garden was that my kids could come with me. Each child had a garden task they had to complete each time we came. The younger ones helped harvest and the older had to water. Once their tasks were done, they could play and explore the outdoors. It was like the old times-back in Laos," explained Hue.
Hue's mother took the lead in designing the plot and planning rotation crops. The family developed the plot as a traditional Hmong garden, adding a much-needed representation of the Hmong culture to the Gardens. This experience for Yang's brought generations of the family together, learning gardening techniques, reducing their produce expense and spending time with each other digging in the dirt.
Each season the Gardens seek volunteers and community groups to plant, maintain and harvest one of the many beds at the kitchen garden. These gardens provide food for our children and adult education programs. This season our theme was international foods. We had garden beds that represented vegetables and herbs used in Spanish, Puerto Rican, Creole, Hmong and Thai themed foods. We encouraged volunteers to harvest anything not used for programs to use themselves or donate to the Neighbor's Place.
The Yang's enjoyed the experience so much that even though their required HFH hours are complete, Hue and his family plan to continue maintaining the kitchen garden plot again next year. Next season the Gardens will continue this effective partnership with HFH and host another partner family. Our hope is that this program continues in years to come and develops into something that partner families can apply at their new home with installations of their own gardens.