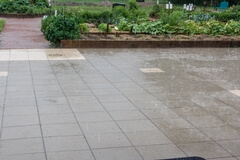 I drove out to the Garden to do an autumn piece. But it was raining--a steady rain falling from a smoke grey sky, no sunny breaks, no wind, just rain. Then I decided to do a piece on the Gardens in the rain. Funny thing about rain—it has a big impact on us and our environment, but few are ever out in it to watch its effect. Except for postal carriers and the grounds crew, everybody else is inside. The rain falls on an empty world. Even the squirrels seek shelter.
The Gardens were wet, and still, and dark. The sound of the rain was continuous—like a ringing in the ear. It pattered endlessly on the leaves, on the roofs of the Treehouse and the Gazebo. It raised an unbroken pattern of dimples on the surface of the pond. It formed puddles on the trails.
The trees and shrubs around the Memory Plaza seemed thicker, denser, and lush with moisture. The boulders were solid black. The trunks of the maples were wet and black on one side, light-colored and dry on the other.
There wasn't much fall color yet—it seems to be waiting for a furious finale—but the sumac leaves were a deep red and some of the maples sported orange and yellow tops.
I paused in a dry spot under the tower in the Treehouse, then walked briskly to the Gazebo, one of my favorite refuges in bad weather. The drumming rain had turned its roof to bright green, water dripped on all sides.
The Meditation Garden was magical. The fruit on the flowering crab trees was deep red, with drops of water hanging off their bottoms—like tiny Christmas ornaments. The shimmering ginkoes and junipers seemed to be enjoying the rain, which must have reminded them of their origins in the wet Northwest. The decorative grass along the pond was bright yellow.
In the Kitchen Garden—past its prime—a few marigolds still shone brightly. The rain had collapsed most of the remaining vegetable plants into droopers, beaten down by the rain drops. A few old tomatoes littered the ground in one garden. In another, a lone squash remained.
I stopped briefly in the Potager and thought it would be a good day for a fire in the fireplace.