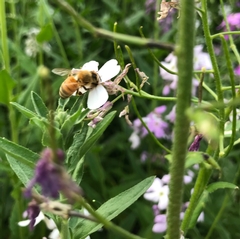 As the sixth week of our internship comes to a close, the summer solstice greets us with open arms and longer days. The community is abundant with activities, events, and that specific summer excitement Wausau thrives off of. Soon, the balloon rally and Chalkfest will be happening, in addition to Booze and Botany and Shakespeare in the Gardens.
Us interns have a variety of things to accomplish on the grounds and with our projects as the summer moves forward. Personally, I am working towards an end goal of a multitude of illustrations for the garden. Currently, I'm attending school in Cleveland, Ohio, at the Cleveland Institute of Art. My major is Biomedical Illustration -- so basically the illustrations in textbooks, natural history museums, and doctor's offices.
For the gardens, I'm focusing on two separate illustration projects. I'm doing a multitude of illustrations for the kitchen garden and the Dirt To Pot Event, starting August 5th with Guacamole and Ceviche. These illustrations will help visitors navigate the kitchen garden with signs that feature foods like "Garlic," "Basil," and "Tomatoes". The goal of these signs is to have something that can be used for years on out in the kitchen garden, making it easier for the public to interact with it.
In addition, I'm working on a series of illustrations to better help the public understand the invasive species on the property. The illustration will highlight Buckthorn, Dame's Rocket, Amur Maple, and Japanese Knotweed. These 4 species can be found on the property, and are sometimes misidentified or the public has a variety of questions on them. The illustrations will be composed on a 2-page 11x17 spread that will be laminated and held at the front kiosk (hopefully). They'll be for everyone in the garden to use, with hopes of furthering their knowledge of what's growing potential in their own backyard.
So far, the most exciting part of doing the illustrations has been the research. I spend hours collecting and removing various invasives from the property and doing a multitude of sketches of them. Observing how the public and nature interacts with these species is always riveting, providing me so many learning opportunities. I'm beyond excited to share my finished project with the board and to see where these illustrations may end up.