Darcie Howard, Executive Director
Darcie Howard has been managing environmental education facilities for 14 years. She was the first director of the Montana Audubon Center in Billings, responsible for directing strategy, raising funds and implementing programs involved in the restoration of that facility. Her experience includes grant writing, donor development, capital campaigns, volunteer involvement, and community partnerships.
She holds an MS in Conservation and Biodiversity Biology from the University of Leeds and a BS from University of Massachusetts-Amherst in Wildife Conservation. She has spent her career connecting people with place. Passionate about conservation, sustainability and environmnetal education. She lives in Wausau with her family and loves to explore WI every chance she gets. Email Darcie at dhoward@monkgardens.org.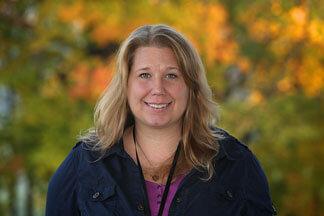 ---
Darrell Fritzel, Bookkeeper
Email Darrell at dfritzel@monkgardens.org.
Darrell grew up in Wausau until he attended North Central University in Minneapolis, MN where he recieved an Education degree. After graduating from NCU, he worked for the Mayo Clinic. In 2005, he decided to spread his wings and taught English for one year in South Korea, only to return for two more years in 2007. It was there he met his wife. He returned to MN to attend school to get a degree in Accounting from Saint Mary's University. He returned to Wausau in 2015 where he lives happily with his wife, 5 year old daughter and a 3 year old son.
---
Elise Schuler, Education Coordinator
Elise grew up in Illinois and attended school at University of Wisconsin-Stevens Point, where she earned a degree in Wildlife Ecology with a focus in environmental education. After graduation Elise spent a summer in Jackson, WY at the Teton Science Schools as a field instructor, spent a year as the Wisconsin Woodland Owners Association's Volunteer Coordinator, and most recently was the Director of Education at the Raptor Education Group Inc. Elise loves being able to connect people to nature in new and inspiring ways through environmental education.
Elise lives near Wausau and enjoys camping and canoeing with her husband and dog, running, and knitting.
---
Harvey Harrison, CRI Intern
Harvey Harrison is Botany Intern with the Gardens this Spring Semester. Harvey comes to us from UWSP, majoring in Forestry. Harvey will work with volunteers and staff to help update Monk Botanical Gardens PlantsMap database. To learn more about PlantsMap click here..
---
Wesley Ebert, Horticulturist Supervisor
Wes is a retired high school science teacher who continues to teach as a substitute for the Wausau district, providing after-school science programs, and educating the community at Monk Botanical Gardens.
He has a BS in Botany from the University of California, Davis where he developed his love for plants working at the campus arboretum. His also hold two masters degrees, one in Botany from UW Madison and the second in Education from Northwestern University.
Wes has been a volunteer and a staff member for many years using his life experiences to be a wonderful asset to the Gardens. Email Wes at webert@monkgardens.org.
---
The Monk Botanical Gardens Board of Directors
| | |
| --- | --- |
| President | Kris Weirauch |
| Vice President | Robert Reinertson |
| Secretary | Darla Zastrow |
| Treasurer | Carolyn Wilde |
Members: Sandi Cihlar, Jim McCluskey, Steve Monk, Vickie Richmond-Hawkins, Marcus Narvaez, Shar Soto, Shelley Wells, Darcey Westcott, Paul Whitaker
Ex-officio: Keith Montgomery, Lori Weyers
Monk Botanical Gardens Committees
| | |
| --- | --- |
| Executive | Kris Weirauch, Chair |
| Finance | Marcus Narvaez, Chair |
| Fund Development | Vickie Richmond-Hawkins, Chair |
| Marketing | Darcey Westcott, Chair |
| Public Programs | Shelley Wells and Barb Parlier, Co-Chairs |
| Private Programs | Shar Soto, Chair |
| Personnel | Kris Weirauch, Chair |
| Grounds | Paul Whitaker, Chair |
| Facilities | Kris Weirauch, Chair |
| Governance | Robert Reinertson, Chair |
Interested in joining our Board or one of our Committees? Click here to volunteer.